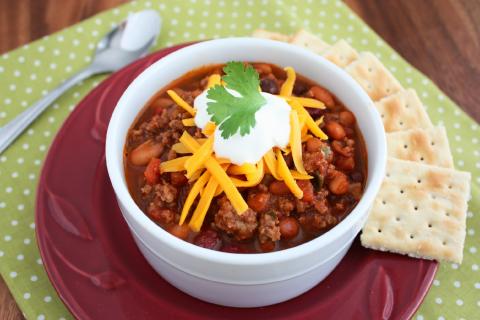 15 Minute Chili
Warm up with this quick and easy homemade chili on a cold winter night.
Ingredients
1 cup fresh or frozen chopped onions
1 pound lean ground beef
1 can stewed tomatoes (28 oz.)
1 tablespoon chili powder
1 tablespoon cumin
1⁄2 cup salsa
1 can pinto beans, drained and rinsed (16 oz.)
1 can kidney beans, drained and rinsed (16 oz.)
Instructions
Wash hands with warm water and soap. Wash fresh vegetables before preparing.
Peel outer layer of onion off and chop.
In a large pot, brown beef with chopped onions on medium heat. Add tomatoes and chop tomatoes with spoon, breaking into small pieces.
Add seasonings and salsa to beef mixture. Stir in drained, rinsed beans.
Cook until hot and serve immediately.
For recipes and more: