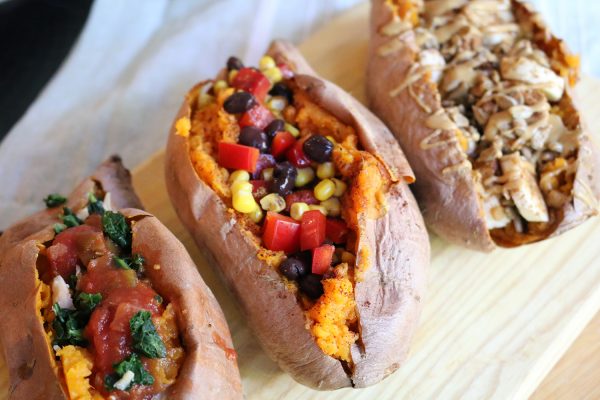 Stuffed Sweet Potatoes Three Ways
Sweet or savory, we have got you covered. Stuffed to the brim, these variations will not disappoint.
Ingredients
Meaty Chicken
1 medium cooked sweet potato
3 tablespoons shredded chicken
3 tablespoons cooked spinach
2 tablespoons salsa
a dash of garlic powder & hot sauce
Savory Southwest
1 medium cooked sweet potato
3 tablespoons black beans
2 tablespoons corn
1 tablespoon diced red or green pepper
a dash of chili powder & cumin
Sweet Banana
1 medium cooked sweet potato
1 tablespoon nut butter
1 ripe banana
1 tablespoon sunflower seeds
a dash of cinnamon
Instructions
Slice open the middle of the cooked sweet potato to form a pocket for other ingredients. Fluff the sweet potato by scraping the inside of the potato with a fork.
Layer on the desired toppings. Serve warm.
Notes
Kids love a toppings bar! Put out small bowls of toppings and let them make their own creations.
In addition to the toppings shown, try leftover chili; stir-fried or steamed vegetables; caramelized pineapple with ham; nonfat plain yogurt; sunflower seeds or other nuts; peas; sautéed apples; or even a poached egg.
Sweet potatoes are very versatile. Bake extra and use the leftovers for easy meal prep.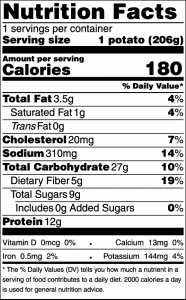 For recipes and more: