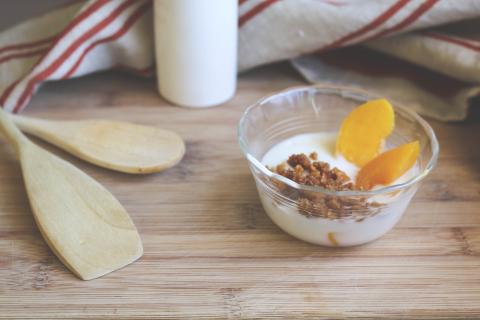 Peach Crumble
This lighter version of a southern classic is sure to be a hit with the whole family.
Ingredients
3 
large sheets graham crackers
1 tablespoon 
soft margarine
1 can 
peaches in juice or light syrup (15 oz.)
1 1⁄2 cup 
low-fat vanilla yogurt
Instructions
Conventional Preparation:
Place graham crackers in zip top plastic bag or between two pieces of foil and crumble, using the unopened can of peaches as a rolling pin.
Melt margarine.
Add graham cracker crumbles and sugar to melted margarine and stir to mix.
Open can of peaches and drain off liquid.
Heat peaches until warm, 1-2 minutes.
Pour 1/2 cup vanilla yogurt in each of 3 small (1 cup) bowls.
Top each bowl with 1/3 of warm peaches.
Top peaches with 1/3 of graham cracker crumbles and serve.
Microwave Directions:
Follow steps of recipe, but melt margarine at half power (5) in the microwave, about 20 seconds.
Heat peaches in microwave-safe bowl, about 1 minute. Stir. Check to be sure peaches are not too hot before serving to children.
Notes
MyPlate Exchanges:
1/2 cup dairy
1/2 cup fruit
1 oz. whole grains
For recipes and more: