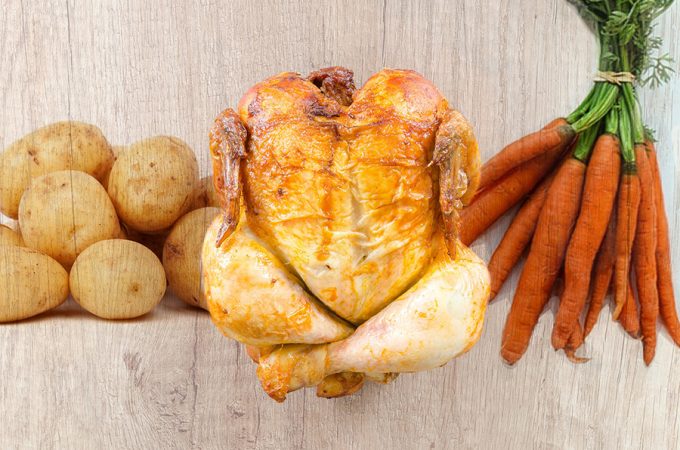 Slow Cooker Chicken Dinner
This hearty chicken dinner practically cooks itself. Just throw everything in the crockpot and you'll have a delicious dinner in just a few hours.
Ingredients
2 onions, sliced
Cooking spray
2 cups baby carrots
6 small red potatoes, cut into 1/4-inch slices (about 1 pound)
1 cup fat-free, lower-sodium chicken broth
1 tablespoon Thyme
1 teaspoon minced garlic (see notes section for how to mince garlic)
3⁄4 teaspoons salt, divided
1⁄2 teaspoon black pepper, divided
1 teaspoon paprika
6 bone-in chicken thighs, skinned
1 teaspoon olive oil
Instructions
Coat slow cooker with cooking spray.
Place onion in slow cooker. Place carrots and potatoes on top of onion.
In a bowl, mix broth, thyme, minced garlic, 1/2 teaspoon salt, and 1/4 teaspoon pepper. Pour over vegetables.
In a small bowl, mix paprika, remaining 1/4 teaspoon salt, and remaining 1/4 teaspoon pepper. Rub over chicken.
Heat a large skillet over medium-high heat. Add oil to the pan and swirl to coat. Add chicken. Cook 3 minutes on each side or until browned. Arrange chicken on top of vegetables.
Cover and cook on low for 3 1/2 hours or until chicken is done and vegetables are tender.
For recipes and more: