Does anyone else forget that Georgia gets chilly in the winter season? Winter is upon us, and we have four festive and fun drinks that are sure to warm you up! 
Nothing puts us in the holiday spirit more than sipping on a delicious, festive drink. We love these single serving drinks because each family member or friend can choose their favorite drink to enjoy together. Little ones will have fun adding marshmallows to the yummy hot chocolate or helping you transform apple juice into spiced apple cider! 
1. Apple
cider 
Sugar, spice, and everything nice… This apple cider has it all without the need for added sugar. Instead, the sugar comes naturally from the apples!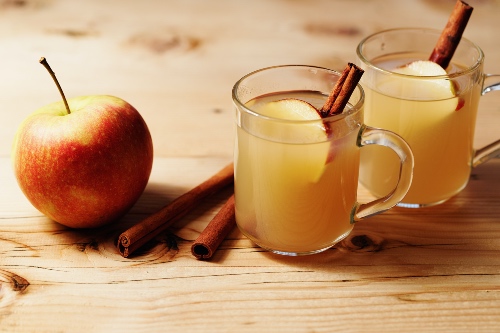 Ingredients: 
1 cup unfiltered apple juic

e

, unsweetened

 

1/4 t

eas

p

oon

cinnamon

 

1/8 t

easpoon

allspice

(

slowly add more for a stronger clove flavor if desired

)

 
Directions: 
Heat up one cup of unfiltered apple juice in a mug in the microwave

until hot. The juice can also

be heated up in

small pot on the stove

.

 

Once hot, add the cinnamon and the allspice

to the juice

. Stir until the spices dissolve in the juice.  

 

If prepared on the stove, carefully pour the juice into a mug

. E

njoy

!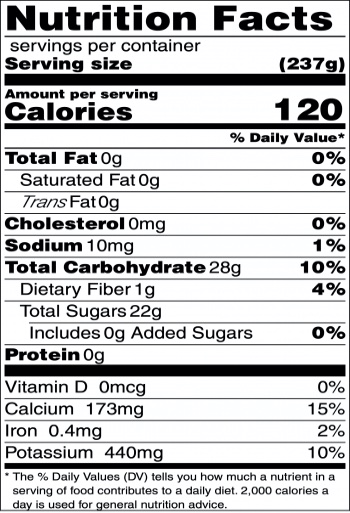 We love all things apples. Don't believe us? Check out this blog on the benefits of apples and how we like to enjoy them. To increase the holiday spirit, try pairing these warm drinks with some of our favorite cookies! 
2. Hot tea
There's nothing like a warm cup of tea. Tea is a naturally sugar-free drink option that tastes delicious and may offer health benefits.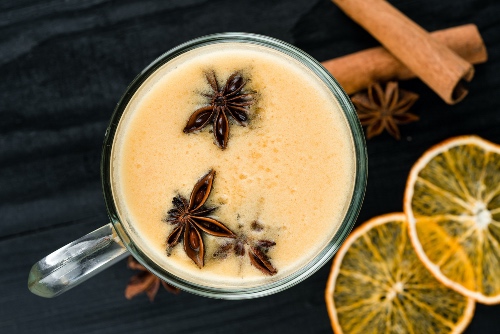 Research suggests that drinking tea may help reduce cardiovascular disease and improve brain health. [1][2] Herbal teas, like chamomile and mint teas, also have antioxidants that can help protect the body from damage. [3]  
Get in the holiday spirit with these hot teas: 
Chamomile tea

 

Peppermint tea

 

Cinnamon tea

 

Earl grey

or chai

tea

(try adding skim milk!)

 

Green tea

(try it with a squeeze of lemon!)


 
3. Pumpkin spice latte
Grab your favorite mug and get ready for a healthier version of your favorite fall drink right at home.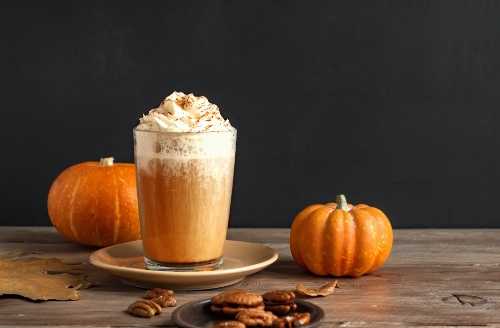 Ingredients: 
1 cup low-fat milk

 

2 tablespoons pure pumpkin puree

 

1 tablespoon sugar

 

¼ teaspoon pumpkin pie spice (or half of ¼ teaspoon cinnamon and half of ¼ teaspoon nutmeg), plus more for sprinkling

 

¼ teaspoon vanilla extract

 

¼ cup strong brewed coffee

 

1 tablespoon whipped cream

 
Directions: 
Combine the milk, pumpkin puree,

sugar

,

pumpkin pie spice, and vanilla in a medium microwavable safe bowl.

 

Cover the bowl with plastic wrap and vent with a small hole.

 

Microwave until the milk is hot, about 1-2 minutes.

 

Whisk vigorously until the milk mixture is foamy, about 30 seconds.

 

Pour the coffee into a large mug and add the foamed milk.

 

Top with whipped cream and a sprinkle of pumpkin pie spice.

 
Read more about the health benefits of pumpkins here! 
4. Homem
ade Hot Chocolate
What is cozier than curling up inside on a cold winter day with a mug of hot chocolate? This simple hot chocolate is oh-so-chocolate-y and can be whipped up in under five minutes!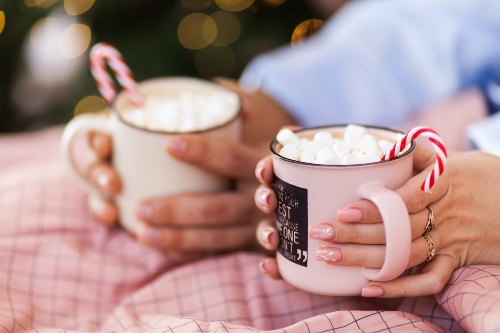 Ingredients: 
1 tablespoon unsweetened cocoa powder

 

1 tablespoon sugar

 

1 cup skim milk

 

1/8 teaspoon vanilla extract

 

2 tablespoons mini marshmallows (optional)

 

1 mini candy cane (optional)

 
Directions:  
Combine cocoa powder and sugar in a large mug

 

Add ¼ cup milk and stir with a fork or small whisk until the cocoa powder and sugar form a thick, smooth paste. 

 

Add in remaining milk and vanilla extract. Stir to combine.

 

Microwave on high for one minute. Stir to distribute the mixture and microwave again for 30 seconds to 1 minute, or until the hot chocolate is at the desired temperature.

 

Top with mini marshmallows and a mini candy cane (optional) and enjoy!

 

 Which festive holiday drink will you try? 
Written by Melanie Ng and Taylor Newman, Ph.D. Students | Edited by Leslie Davis, RDN, LD, CDCES, and the Nutrition Team
Be Creative
Drink Water
Focus on Health
How to Cook Better
Invite Your Kids
Plan Ahead
Save Money
Shop Smarter
Store Food
Uncategorized