Meal planning saves time and reduces stress at the end of a long day. It is also a great way to reduce food waste and make the healthy choice the easy choice. We're revisiting a classic Food eTalk video, Tips for Planning Menus, to bring you our best meal planning blog yet! Keep reading for our steps to success.
1. Get organized! Ask yourself these questions:
What does the family's week look like?

 

Who will be home for meals?

 

What do the kids need for their lunches?

 

Do sports or work schedules affect the plan?

 

Are there any

 special requests

 or allergies to be careful of

?
2. Check your pantry and refrigerator:
What do you already have and what staple

 foods 

are you missing?

 

Are there any 

fresh

 foods that you should plan into the weekly menu before they go bad?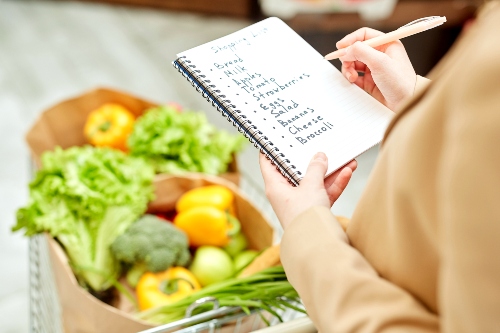 3. Create a grocery list and use a weekly meal planner:
Decide what meals you want to make based on in-season produce and food already at home

.

 

For

 meal

 inspiration, check out our Food Talk recipes 

here

!

 

G

roup similar items together

 (fresh produce, canned vegetables, dairy) on your list

. This will save you time in the store.

 

Stick to your list in the store

 to 

save

 money

!
4. Cook in batches and store the leftovers:
Follow your weekly meal planner. 

Cooking a

 large amount of food early in the week means you have food for many meals throughout the week!

 

S

tore 

leftover 

food in the fridge

 in 

larg

e containers or put 

one meal's worth of food

 in 

smaller 

container

s.

 

Need 

refrigerator 

organization tips? Check out 

our post on 

The Fridge Edit

!

You may also find that you made more than

 your family

 

could eat

.

 

We have got you covered with tips on

 

f

reezing 

f

oods

 (so convenient!) and 

how to store leftov

ers safely

.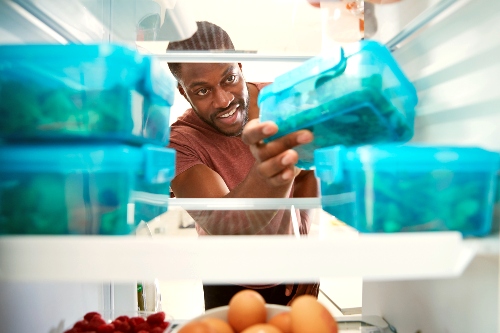 With practice, meal planning will become the weekly helper you didn't know you needed. Just minutes spent in planning will save you money, remove unnecessary stress, and help you serve healthier meals. 
Love this blog? Check out our other Meal Planning blog post! 
Written by Melanie Ng, Ph.D. Student and Leslie C. Davis, MS, RD, LD, CDCES | Edited by the Nutrition Education team 
Be Creative
Drink Water
Focus on Health
How to Cook Better
Invite Your Kids
Plan Ahead
Save Money
Shop Smarter
Store Food
Uncategorized