Check out this great recipe for our yummy apple nachos!
Ingredients:
2 apples of choice
1 tablespoon lemon juice
1/4 cup smooth peanut butter
1 tbsp chocolate chips (mini-chips work great)
1/2 tsp cinnamon
Canola spray
Optional: 1 tbsp handful unsweetened shredded coconut
Directions:
Wash the apples.
Cut around the apple cores.
Cut the apple chunks into 1/4 inch slices.
Cut and squeeze a lemon into a small bowl. Use a spoon to remove the lemon seeds.
Place the apple slices in a large bowl with the lemon juice.
Use tongs to toss and coat the apple slices in the lemon juice.
Heat your peanut butter until warmed and runny.
Lay your apple slices in a single layer on a large plate. Drizzle the peanut butter on the apples.
Add your toppings.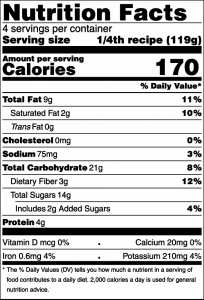 Recipe inspired by the Simple Veganista | Video by Jennifer Denson
The video team includes Laurel Sanville MS, RDN, LD, Darci Bell RDN, LD, Taylor Newman, Ph.D. Candidate, and Danielle Anthony
Be Creative
Drink Water
Focus on Health
How to Cook Better
Invite Your Kids
Plan Ahead
Save Money
Shop Smarter
Store Food
Uncategorized