Whip up a delicious meatless meal in just 20 minutes! Packed with flavor and protein you'll want to double the recipe so there will be plenty of leftovers.
Serves 4 
Ingredients:
1 cup quinoa, uncooked
2 cups low sodium vegetable broth
1 tablespoon oil
1 medium onion, chopped, divided use
1 clove garlic, chopped
2/3 cup water
2-3 bay leaves, dried
1 (15 ounce) can reduced sodium black beans, drained and rinsed
2 tablespoons chopped cilantro (optional)
1 teaspoon cumin powder
1 tablespoon lime juice
1/4 cup bell pepper, diced
1 medium tomato, sliced
1 avocado, sliced
Instructions:
Prepare quinoa according to package directions using the low sodium broth in place of water. Once cooked, cover the pot and let sit off heat for 5-10 minutes.
In a different pan over medium heat, add 1 tablespoon of oil. Sauté 3/4th of the chopped onion for 4-5 minutes or until soft. Add the chopped garlic to the pan and sauté for an additional 30 seconds.
Add water, black beans, bay leaves, cilantro, and cumin to the pan with sautéed onions and garlic. Bring mixture to a boil, then reduce heat to low simmer. Cook beans uncovered for 15 minutes or until most of the water has absorbed. Beans should be slightly thick.
Pour lime juice into bean mixture. Stir and remove from heat.
Assemble bowls by equally dividing portions of quinoa, black bean mixture, uncooked onion, bell peppers, tomato, and avocado. Enjoy!
Notes:
Load your bowl with your favorite veggies! We like corn, lettuce, or even mushrooms.
Like it hot? Try adding 1/4 teaspoon of mild chili powder or 1/8 teaspoon of cayenne to turn this dish into a spicy bowl.
Don't like canned food? Soak and cook your own black beans. Any leftovers freeze well for up to 6 months.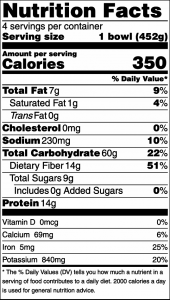 Nutrition facts panel for the Black Bean & Quinoa Bowl