Taco Tuesday never tasted so good! These vegan tacos are a fun and healthy hand-held dish that will satisfy your spicy food craving in a big way.
Serves 4, two tacos each
Ingredients:
3 tablespoons oil
3 tablespoons hot sauce
1 tablespoon vinegar
1 medium head cauliflower, cut into bite-size florets
1/2 cup all-purpose flour
1/2 teaspoon garlic powder
1/2 tsp onion powder
8 corn tortillas
1 cup coleslaw mix (shredded green/purple cabbage and carrots)
1 cup fresh baby spinach, rough chopped
1/4 cup chopped green onions
4 tablespoons salsa (optional)
Instructions:
Preheat oven to 375F. Line a baking sheet with parchment paper or coat with nonstick cooking spray.
Mix the oil, hot sauce, and vinegar to a small bowl and set aside.
 Rinse the cauliflower florets and drain, leaving the cauliflower pieces slightly wet. Set aside.
Combine the flour, garlic powder, and onion powder in a large bowl and mix well. Add the wet cauliflower florets; toss until the pieces are thoroughly coated. Transfer coated cauliflower to a colander to shake off any excess flour and return them to the bowl. Add hot sauce mixture. Toss until the florets are very well coated.
Spread coated cauliflower in a single layer on the prepared baking sheet. Bake for 25-30 minutes or until tender and slightly crispy. Remove cauliflower from oven.
 Fill each taco with buffalo cauliflower, shredded cabbage, spinach, and green onions.
Divide salsa equally over the tacos if using. Enjoy!
Notes:
Want something other than tacos? Use the filling in a wrap or hoagie roll. Try adding the buffalo cauliflower to pizza as a new topping, or puree the buffalo cauliflower and serve as a dip with celery sticks.
Don't like hot sauce? Use barbecue sauce instead!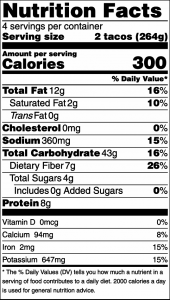 Nutrition facts panel for the Buffalo Cauliflower Tacos