Looking for healthy comfort foods? This is the perfect, delicious, affordable chicken noodle soup – our staff is just nuts about it.
Serves 8
Ingredients:
1 tablespoons oil
1 large onion, diced
2 medium carrots, diced
1 ½ cups diced celery,  include leaves
6 cups 33% less-sodium chicken broth
2 cups of water
1 tablespoon dried oregano
8 ounces wide egg noodles
2 tablespoons lemon juice (optional)
1-2 teaspoon black pepper
2 cups cooked and cubed chicken breasts
Instructions:
Wash and dice the onion, carrots, and celery.
In a large soup pot, heat the oil until shimmering. Sauté the onion until clear. Stir in the carrots and celery. Cook a few minutes more until vegetables begin to soften.
Stir in the broth, water, and oregano.
Bring to a boil and stir in the egg noodles. Simmer 8-10 minutes or until noodles are al dente.
Stir in the lemon juice (if using) and pepper. Add the cooked cubed chicken. Simmer until hot. Serve immediately.
Notes:
The noodles in the leftover soup will continue to absorb liquid, so you may need to add more chicken broth or water when serving leftovers.
For best noodle texture, enjoy this soup within 2 days of preparation.
This is a great recipe for using leftover cooked chicken! You can also buy frozen cooked chicken to save time. Other cuts of chicken, such as thighs or canned, can be used in place of chicken breasts.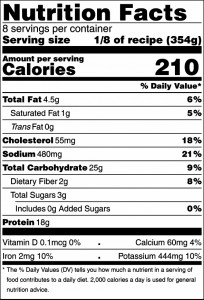 Nutrition facts panel for Chicken Noodle Soup