This moist cornbread is so loaded full of vegetables that it could almost be a meal by itself!

Ingredients
1 (1 pound) package fresh collard greens, chopped
1 1/4 cups self-rising cornmeal mix
1/2 cup all-purpose flour
3/4 teaspoon baking powder
1/4 teaspoon salt
2 large eggs
1 cup light (1.5% milkfat) buttermilk
1 (14.75 ounce) can sweet cream corn
1 1/2 cups chopped onion
1/2 teaspoon pepper
Vegetable cooking spray
Instructions
Preheat oven to 400°F.
Remove any remaining stems on collards. Cook collards in boiling water for 5 minutes. Drain well and squeeze with paper towels to remove as much liquid as possible from the leaves. Set aside to cool.
Whisk together cornmeal mix, flour, baking powder, and salt in a medium bowl. Whisk together eggs and buttermilk in a large mixing bowl Stir in the cornmeal mix, corn, onion, collards, and pepper. Stir well to incorporate collards throughout the batter.
Spray muffin tins (there is enough batter for 18 muffin cups) with vegetable cooking spray. Place muffin tins in the oven for 2 minutes. Remove from the oven and fill hot muffin tins until almost full. The hot muffin tins will give each muffin crispy edges.
Bake at 400°F for 30 minutes or until golden brown. Let muffins cool for 10 minutes before removing them from the muffin tin for serving.
Notes
Don't have buttermilk? Make your own "sour milk" by adding 1 tablespoon of lemon juice to 1 cup of milk. Stir and let sit for 5 minutes before use.
After cooking the greens and before adding to the cornmeal mixture, chop up the greens further to assure no stringy pieces.
Like it hot? Try a dash of hot pepper sauce or cayenne pepper in the batter or even on the finished muffins.
Other cooked, leftover vegetables can be substituted for the greens. Favorites include: yellow squash, zucchini, green peppers, and spinach.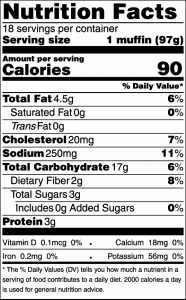 Video by Jennifer Denson | Video team includes Laurel Sanville MS, RDN, LD, Darci Bell RDN, LD, Taylor Newman, Ph.D. Candidate, and Danielle Anthony