Try this flavorful vegan option for a quick and satisfying lunch. It comes together in a snap and is delightfully tasty!
Serves 4
Ingredients:
For the sandwich filling:
1 –  15 ounce can reduced sodium chickpeas, drained and rinsed
1/4 cup vegan mayo
1 small piece of celery, thinly sliced
1/8 cup red onion, diced
1 tablespoon cilantro, chopped (optional)
2 teaspoons of mild curry powder
1/4 cup raisins
1/8 teaspoon salt
2 tablespoon lemon juice or ½ of squeezed lemon
For each sandwich:
2 slices of bread
2 pieces of lettuce
1 slice of tomato (optional)
Instructions:
Place chickpeas in a large bowl. Using a fork, mash most of the chickpeas leaving some large pieces for texture.
Add the remaining filling ingredients to the bowl and mix well.
Assemble each sandwich by toasting 2 slices of bread and layering each sandwich with 1/4th of the chickpea salad, lettuce, and tomato (if using). Top with the other piece of bread. Enjoy!
Notes:
Want more fruit in your diet? You can cut 8-12 grapes in half and add them in during step #2.
Don't like canned food? You can soak and cook your own chickpeas instead of using canned. About 1 1/2 cups cooked chickpeas is the same as a 15 ounce can.
Any mayonnaise can be used if you aren't following a vegan diet.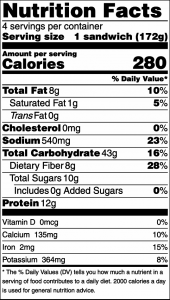 Nutrition facts panel for the curry chickpea sandwich