A new twist on a UGA SNAP-Ed favorite! This version amps up the flavor with our Zesty Sauce and reduces sodium by 60% making it a nutritious meal that the whole family will love.
Makes 4 servings, 2 quesadillas each
Ingredients:
Zesty Sauce:
1 cup plain, nonfat yogurt
¼ cup salsa*
Quesadillas:
2 teaspoons oil
2 small zucchini, shredded
5 ounces fresh baby spinach, chopped if needed
16 oz. can reduced-sodium or no added salt pinto beans*, rinsed 2 minutes in a colander, drained, and fork smashed
1-2 teaspoons water
½ teaspoon ground black pepper
Non-stick cooking spray
8 white corn tortillas* (soft taco size, about 5.5″)
4 ounces 2% shredded Cheddar cheese (sharp if available)
Optional: Cayenne pepper to taste, hot sauce *
*Choose lowest sodium version available
Instructions:
Make Zesty Sauce by mixing yogurt and salsa in a small bowl. Refrigerate.
In a colander, rinse pinto beans. Drain. Smash with a fork before using.
Wash and trim zucchini. Shred with a grater.
In a large skillet over medium heat, heat oil. Add zucchini & cayenne pepper (if using). Cook until soft, about 5 minutes.
Add spinach. Cover & cook until tender, stirring occasionally, about 3 minutes.
Add smashed beans & water. Mix to make a veggie-bean paste.
Season with black pepper. Remove mixture to bowl. Wipe skillet if needed.
Spray skillet with non-stick spray. Working in batches, place 2-3 tortillas in a skillet, divide veggie-bean mixture evenly and spread on half of each tortilla. Sprinkle 1 tablespoon cheese over top of each tortilla. Fold tortillas. Press lightly with a spatula to flatten.
Cook on each side about 2 minutes or until heated through. Repeat until all quesadillas are cooked.
Serve hot with Zesty Sauce and hot sauce (if using).
Notes:
Quesadillas are a very popular fast food meal and they are easy to make at home. Kids love them! Choosing corn tortillas in place of flour makes them friendly to a sodium-restricted eating plan.
The zucchini and spinach add color and flavor to these quesadillas! At home, you can try adding other vegetables to your quesadillas. Some favorites include onions, mushrooms, and bell pepper.
This recipe uses cheese made from 2% milk, which is lower in fat than regular cheese but has just as much calcium. Measuring your cheese will save you additional calories and money.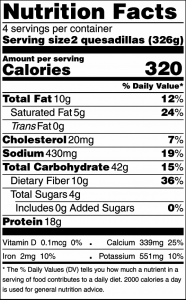 Nutrition facts panel for the fiesta quesadillas