Jambalaya is a famous Creole rice dish that is filling and usually made with shrimp, chicken, and sausage. Our version with just vegetables still packs the same spicy heat as always. If you like even more heat, serve with your favorite hot sauce.
Serves 5
Ingredients:
1 tablespoon vegetable oil
2 cups frozen chopped onion
1 cup frozen chopped green bell pepper
2 cloves garlic, diced
3 stalks celery, diced
4 cups vegetable broth
2 (14.5 ounce) cans no-salt added diced tomatoes, undrained
2 cups frozen cut okra
1 teaspoon Italian seasoning
3 bay leaves
1/2 teaspoon paprika
1/4 – 1/2 teaspoons cayenne pepper
1/2 teaspoon salt
1/4 teaspoon pepper
1 cup whole grain brown rice
Hot sauce, for serving, if desired
Instructions:
Heat vegetable oil in large pot over medium heat. Add garlic and cook for 30 seconds, stirring constantly. Stir in onion, bell pepper and celery. Cook for 6 minutes or until vegetables are just beginning to brown.
Stir in broth, tomatoes, okra, Italian seasoning, bay leaves, paprika, cayenne pepper, salt and pepper. Simmer for 5 minutes.
Stir in rice. Cover and simmer for 30 – 35 minutes or until all liquid has been absorbed by the rice. Remove bay leaves before serving.
Serve with hot sauce, if desired.
Notes:
You can add 1 cup of your favorite chopped protein for an even heartier meal.
Fresh onion and bell pepper can be substituted for the frozen chopped onion and green bell pepper.
Freeze leftovers for up to 6 months.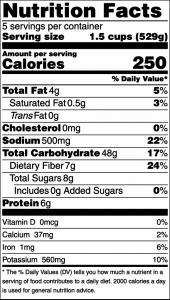 Nutrition facts panel for the Jumpin' Jambalaya Vegan Style