The classic Reuben sandwich goes vegan in this savory recipe. Layers of flavorful mushrooms, tangy sauerkraut, and creamy Thousand Island style dressing make for a delicious meal you'll be dreaming about for a long time!
Serves 4 
Ingredients:
16 ounces Portobello or white mushrooms
2 teaspoons oil
1/2 teaspoon ground cumin
1 teaspoon fennel seed (optional)
1/2 teaspoon garlic powder
1/2 teaspoon black pepper
1/8 teaspoon salt
8 slices dark or light rye bread
4 slices of vegan sliced cheese
1/2 cup sauerkraut (choose lowest sodium version available)
Home made thousand island dressing, (recipe below)

3 tablespoons vegan mayo
1 tablespoon ketchup
1 tablespoon sweet pickle relish
½ teaspoon vinegar
Instructions:
Preheat oven to 375. Line a baking sheet with parchment paper or foil or spray with nonstick spray.
Clean and slice mushrooms ¼ – ½ inch thick. Place cut mushrooms in a bowl and drizzle with oil. Toss. Add cumin, fennel seeds (if using), garlic powder, black pepper, and salt. Toss again.
Spread sliced mushrooms on the prepared baking sheet in a single layer. Place mushrooms in the oven and cook for about 10-12 minutes. Remove from oven, flip mushrooms, and return for 10-12 additional minutes. Remove from oven when slightly browned and set aside.
Assemble each sandwich by layering on one slice of bread: a slice of cheese, 1/4th of the roasted mushrooms, 2 tablespoons sauerkraut, and 1/4th of the thousand island dressing. Top with the second slice of bread, cut in half, and enjoy!
Notes:
Try toasting your bread before adding the fillings for a slightly crunchy experience.
When choosing your sauerkraut, ketchup, and pickle relish, look for versions with the lowest amount of sodium available.
Turn this into a "Reuben Philly" by using a hoagie roll instead of rye bread. You can also add fresh or sautéed bell peppers and onion to bring even more flavor to your sandwich.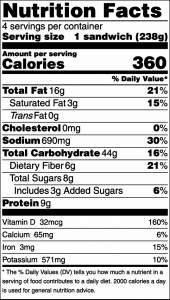 Nutrition facts panel for the Mushroom Reuben Sandwich