Making dinner on a sheet pan keeps the dirty dishes to a minimum, which we love! This easy-to-make meal is satisfying and nutritious.
Serves 4
Ingredients:
1 1/2 tablespoons dried Italian seasoning
1 teaspoon paprika
3/4 teaspoon pepper
1/2 teaspoon salt
1 pound red potatoes, cut into 1-inch pieces
12 ounces carrots, washed and cut into 1-inch pieces
1 1/2 tablespoons canola oil, divided
4 (6 ounces) bone-in, skinless chicken thighs
Instructions:
Preheat oven to 400 degrees. Place the sheet pan in the oven as it preheats.
Combine Italian seasoning, paprika, pepper and salt in a small bowl and set aside.
Toss together potatoes and carrots in 1 tablespoon of oil.
Remove the hot sheet pan from the oven and be careful to add ingredients to the pan. Arrange potatoes and carrots on the sheet pan, leaving the center of the pan empty for placing the chicken. Arrange chicken in the center of the pan and drizzle with remaining 1/2 tablespoon of oil.
Sprinkle seasoning mixture generously over vegetables and chicken, reserving about 1 teaspoon of the seasoning mixture.
Bake for 25 minutes. Toss potatoes and carrots and turn chicken over. Sprinkle remaining seasoning mixture over the chicken. Bake 15 minutes additional minutes or until chicken registers 165 degrees.
Notes:
Chicken should be cooked to an internal temperature of 165⁰F. Use a meat thermometer to ensure that the meat has reached the specified temperature by inserting the tip into the thickest part of the chicken and allowing the reading to come to a stop.
This recipe calls for dried Italian herbs. Try substituting fresh herbs if you'd like. Because fresh herbs are generally less potent and concentrated than dried herbs, you'll need more — typically three times the amount of fresh herbs as dry. For example, if a recipe calls for 1 tablespoon of fresh oregano, you need only 1 teaspoon of dried, since 3 teaspoons equal 1 tablespoon. For this recipe, 4 ½ tablespoons of minced fresh herbs like basil, parsley, and oregano can be used.
Preheating the sheet pan in the oven gives the best browning on the vegetables.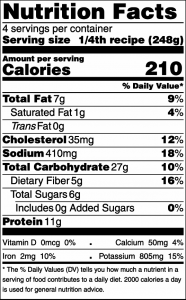 Nutrition facts panel for the Sheet Pan Chicken and Vegetables