Yogurt Crunch Parfait
Easy, delicious, and kid-friendly. Make this parfait your way!
Ingredients
3 tablespoons fresh blueberries
4 ounces lemon or vanilla low-fat yogurt
1 tablespoon crushed breakfast cereal
Instructions
Spoon blueberries into a cup and top with yogurt
Sprinkle with cereal. Serve immediately.
Notes
Replace the blueberries with your favorite fruit.
Set out different fruits, yogurts, and cereals. Let each person customize their own parfait.
For a healthy crunch, sprinkle nuts or seeds on top.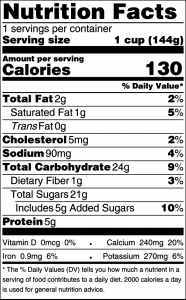 Nutrition facts panel for the yogurt crunch parfait
Interested in recipes, cooking, and exercise videos? Or Sign Up for our Food Talk eNewsletter.
For recipes and more: