Salty, sweet, crunchy and creamy – this salad has it all! Swapping out protein-packed Greek yogurt for traditional mayonnaise makes a much healthier version of this potluck favorite. The salad can be stored in the refrigerator for up to two days, making for great leftovers.
Makes 7 cups
Ingredients:
1 1/2 pounds fresh broccoli
1/4 cup finely chopped onion
1/3 cup raisins
¼ cup dry roasted sunflower kernels
1 (6 ounce) container fat free plain Greek yogurt
3 tablespoons white vinegar
1/4 teaspoon pepper
1/8 teaspoon salt
Instructions:
Trim broccoli florets off of the stems. Cut large florets in half if needed to be bite-sized.
In a large mixing bowl, combine broccoli florets, onion, raisins and sunflower kernels.
In a small bowl, combine yogurt, vinegar, salt and pepper. Spoon over broccoli and toss.
Notes:
Don't cry over the onions! Placing peeled, whole onions in the freezer for 10 minutes prior to chopping can reduce eye irritation and tears.
Add some extra color and crunch to this dish by tossing in a handful of shredded carrots. Carrots can assist you in meeting your daily requirement of Vitamin A, a vitamin that is essential for eye and skin health!
Chopping the broccoli into small pieces may improve acceptance by the younger member of the family.
Store leftover sunflower kernels in the refrigerator to extend their shelf-life.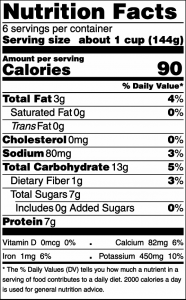 Nutrition facts panel for the southern broccoli salad