This delicious corn pudding makes a great vegetarian side dish. It is packed full of flavor and texture to please your palate.
Ingredients:
Serves 6
1 ½ tablespoons all-purpose flour
1 tablespoon sugar
1 teaspoon baking powder
¾ teaspoons salt
3 large eggs
½ cup nonfat Greek yogurt
½ cup nonfat evaporated milk
2 tablespoons unsalted butter
1 tablespoon vegetable or canola oil
3 cups canned or frozen corn (no salt added)
1 sweet onion
1 jalapeño
2 cups kale
1 teaspoon black pepper
¼ cup low-fat shredded cheddar cheese
Non-stick cooking spray
Instructions:
Wash hands with soap and water.
Pre-heat oven to 350 °F. Spray 9×9 baking dish with cooking spray.
Put flour, sugar, baking powder, and salt in a small bowl and stir until mixed well. Set aside.
Place eggs, yogurt, and milk in a medium bowl and whisk together until blended and smooth. Set aside.
Wash hands with soap and water.
Wash onion, kale, and jalapeño under cold running water.
Chop onion and kale small pieces. Remove seeds from jalapeño and chop jalapeño finely.
If using frozen corn, defrost in the microwave on high for one minute, or until warm to the touch, drain off any water and pat dry with paper towels.
Heat butter and oil in a large skillet over medium-high heat.
Add corn, kale, 2 tablespoons jalapeño and ½ cup onion to the skillet and cook until softened (about 5 minutes), stirring often.
Stir in black pepper and remove from heat. Then let cool about 5 minutes.
Stir flour mixture and corn mixture into egg mixture.
Spoon mixture into baking dish and bake until golden brown (about 20 minutes).
Remove from oven, sprinkle cheese on top of corn pudding and return to oven. Cook an additional 10-12 minutes. Let stand 5 minutes before serving. Enjoy!
Notes:
If using fresh corn, you will need about 4-5 ears of corn. To remove kernels from fresh corn, stand corncob upright in a shallow bowl. Cut with knife moving in a downward direction.
This dish can be made ahead of time. Bake as directed, let cool, cover and chill up to 2 days. To reheat, cover with foil and bake 20-25 minutes or until warmed through.
See our videos on chopping onions and greens for some great tips on prepping these vegetables.
Refrigerate or freeze any leftover onions or pepper to use later.
When cutting jalapeños please wear gloves and be mindful of touching your face and eyes after contact with the pepper.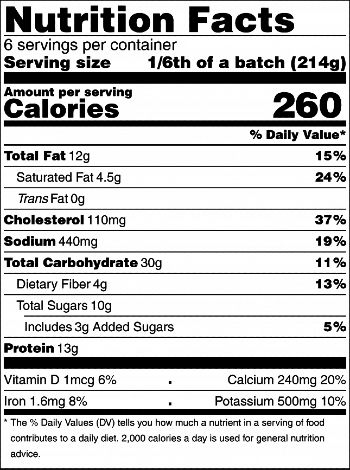 Try this Spicy Corn Pudding with Lemon Pepper Chicken and Southern Broccoli Salad.