Treat yourself to a refreshing berry snack. This simple recipe can help you beat the heat while providing low-fat protein. Serve in an ice-cream cone as a healthy dessert. Watch how to make the recipe here!
Serves 3
Ingredients:
2 cups frozen strawberries
1/2 cup plain Greek non-fat yogurt
1 1/2 tablespoon honey
Instructions:
Add all ingredients to a small blender or food processor
Blend for 1-2 minutes
Scoop your frozen yogurt out and enjoy immediately!
Notes:
If your ingredients get pushed to the sides of your blender, stop the blender and take the top off. Scrape the ingredients off the sides. Put the lid back on the blender. Blend again for 1 minute. Doubling the recipe will also reduce blending issues.
This is an easy recipe to personalize. Use your favorite fruits instead of or along with the strawberries. Blueberries or bananas make great additions.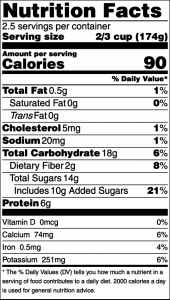 Nutrition facts panel for the strawberry frozen yogurt