Looking for a healthy meal? Try these simple stuffed bell peppers as they are a good source of fiber, low in calories, and high in water [1] which help satisfy hunger.

These tasty vegetables help satisfy hunger and are also packed with Vitamin A, which is important for eye health [2] and is a good source of vitamin C, which can help prevent diseases such as cardiovascular disease, cancer, as well as the common cold. [3] These Stuffed Peppers are quick to fix and kids love them.
Ingredients:
1 cup brown rice, uncooked
1 can  (15-ounces) black beans, no salt added
4 bell peppers 

(any color)

1 cup cheddar cheese, shredded 

(reduced fat)

1 tomato, sliced
1 cup of salsa
salt 

(to taste, optional)
Directions:
Preheat the oven to 400°F.
Cook brown rice according to package directions.
Wash the peppers under running water.
Cut the tops off the peppers and spoon out the seeds.
Drain and rinse the black beans.
Combine the beans, rice, salsa, and salt (optional).
Spoon about 3 tablespoons of the mixture into the bottom of each pepper.
Place a slice of tomato on top of the mixture and sprinkle with 2 tablespoons of cheese.
Repeat steps 7 and 8 to fill the pepper completely but do not top with cheese.
Bake peppers for 30 minutes, top each with 2 Tablespoons of cheese, and continue baking for 15 minutes more.
Chefs Tips:
Experiment with different grains and use quinoa, barley, farro, or bulgar instead of rice. This swap will increase the amount of protein and fiber as well!
Use different colors of bell peppers to make a more colorful meal!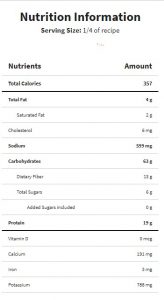 For additional recipes with Bell Peppers, check these out: Vegetarian Stuffed Peppers, Stuffed Green Peppers, and Corn and Pepper Cups.
[2] National Institutes of Health- Vitamin A
[3] National Institutes of Health- Vitamin C
Original Recipe Source: MyPlate