Turmeric is a bright, flavorful spice with anti-inflammatory properties, as well as other health benefits. Try this recipe for an easy way to incorporate turmeric into your diet and start off your day in color.
Serves 2
Ingredients:
Non-stick spray
5 ounces or ~3 1/2 cups fresh baby spinach leaves, roughly chopped
4 large eggs
¼ teaspoon garlic powder
1-1 ½ teaspoons ground turmeric
¼ teaspoon salt
¼ teaspoon black pepper
Instructions:
In a medium bowl, whisk the eggs with the garlic powder, turmeric, and black pepper. Set aside.
Coat a large skillet with non-stick spray and heat over medium heat. Add the spinach leaves and wilt for a few minutes. Leaves will look dark green and limp.
Reduce heat to low and add egg mixture to the pan with the spinach. Stir continuously for 5-8 minutes until the scrambled eggs are fluffy and thoroughly cooked.
Notes:
Adding a splash of water to the skillet can keep the spinach leaves from sticking to the pan. A non-stick skillet will also help.
Be patient- eggs cook best "low and slow". Keep the heat on low, stirring occasionally for the best consistency.
These eggs taste great served on your favorite whole-grain toast!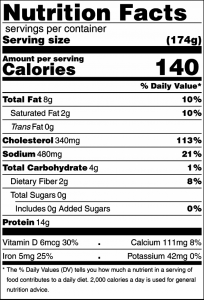 Nutrition facts panel for Turmeric Scrambled Eggs