Tacos take a vegetarian spin thanks to soy crumbles. Pile on the toppings and enjoy!
Ingredients
Vegetarian Tacos:
1 tablespoon vegetable oil
1 onion, chopped
1 (12 ounce) package frozen soy crumbles
1 teaspoon chili powder
1/4 teaspoon garlic powder
1/8 teaspoon onion powder
1/2 dried oregano
1/2 teaspoon jarred minced garlic
12 corn tortillas
2 cups chopped lettuce
1/4 cup nonfat plain yogurt (optional)
2 ounces 2% sharp cheddar cheese, shredded
Homemade salsa, recipe below
Homemade Salsa:
2 (14.5 ounce) cans diced tomatoes, no salt added, drained
1/2 teaspoon jarred minced garlic
2 green onions
¼ bunch cilantro
1 teaspoon cumin
1/2 teaspoon chili powder
1/8 teaspoon cayenne powder (optional)
2 tablespoons lime juice
Instructions
Heat vegetable oil in a large non-stick skillet over medium low heat.
Add onion and cook for 3 minutes or until softened. Before opening bag of soy crumbles, break up any chunks.
Add soy crumbles, chili powder, garlic powder, onion powder, and oregano to skillet. Stir.
Reduce heat to low and cook for 8 to 10 minutes, adding garlic in for the last minute. Remove from the skillet and cover with foil to keep warm.
Toast corn tortillas, two at a time, in hot skillet until warmed through and just starting to brown.
Serve tacos with soy crumbles, lettuce, yogurt, cheese, and Homemade Salsa
For the Salsa:
Wash hands with soap and water.
Wipe tops of tomato and green chili cans with a damp paper towel and open. Drain tomatoes and set aside.
Gently rub green onions and cilantro under cold, running water. Chop green onions, white and green parts, and cilantro. Set aside green onions and measure out 2 tablespoons cilantro. Wash hands with soap and water.
Combine all ingredients in a medium mixing bowl. Stir well and enjoy immediately or store in the refrigerator at or below 40-degrees Fahrenheit until ready to serve.
Notes
Add beans to stretch the filling–black beans, pinto beans, or lentils will work.
A few tablespoons of the drained tomato juice will add extra moisture to the filling.
Try adding cumin or chipotle chili to your filling for a smoky flavor.
Making your own taco seasoning mix lowers the salt drastically from pre-made versions.
Use fresh tomatoes, sweet onions, and/or red onions for the salsa to switch things up!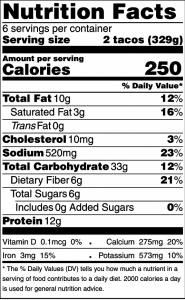 Interested in more recipes, cooking and exercise videos? Or Sign Up for our Food Talk eNewsletter and learn if you are eligible for free online classes.