Ragú is a classic homemade meat sauce that is a staple in most homes in Italy. Carrots, onions and celery are essential- celery leaves can also be added for extra flavor. Once chopped, celery leaves can be very versatile.
Makes 7.5 cups sauce; Serves 7
Ingredients:
1 pound Italian sausage, ground
3 carrots, thinly sliced
2 celery stalks and leaves, chopped
1 onion, finely chopped
3 garlic cloves, diced
1 (28 ounce) can no salt added crushed tomatoes, undrained
1 cup reduced sodium chicken broth
3 tablespoons tomato paste
3/4 teaspoon dried oregano or basil
1/2 teaspoon pepper
1 (15.8 ounce) can great northern beans, rinsed and drained
1 tablespoon fresh lemon juice
1/2 (16 ounce) package whole grain spaghetti for serving
Instructions:
In a large stockpot or Dutch oven over medium heat, cook sausage for about 5 minutes, using a spatula or a spoon to break meat into small pieces as it cooks. Drain excess fat.
Add carrots, celery, onion and garlic to sausage. Cook for 5 to 6 minutes, stirring often.
Add tomatoes, broth, tomato paste, oregano and pepper. Return to a simmer and cook for 5 minutes. Reduce heat to low and stir in beans and lemon juice. Simmer for 10 minutes.
While ragú is simmering, cook whole grain spaghetti according to package directions. Drain.
Divide the pasta and sauce evenly in bowls. Enjoy!
Notes:
Extra servings can be frozen for up to 3 months.
Lean ground turkey can be substituted for the sausage for a reduced fat version.
This recipe doubles nicely to feed a crowd or to make sure you have plenty of leftovers for another meal!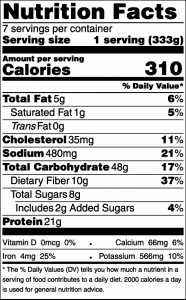 Nutrition facts panel for the White Bean and Sausage Ragú